| | |
| --- | --- |
| KHUDONI HPP | On the ENGURI RIV. |
(Preserved Construction)
CUSTOMER:
Sakmtavarenergo
GEN. DESIGNER:
Hydroproject (Tbilisi)
GEN. CONTRACTOR:
Sakhydroenergomsheni
TECHNICAL ASSISTANCE / SERVICES
of GEN. CONTRACTOR:
Orgenergomsheni
PARAMETERS:
Capacity, MW
640
Power output, GWh
1455
Reservoir storage, mln m3
89/230
Rated water discharge, m3/s
490
Discharge through waterways, m3/s
1924
Rated head, m
124
TYPE OF REGULATION:
Seasonal
SCOPE OF WORKS:
Excavation, ths m3
3699
Earth and rock filling, outlining, drainages and filters, ths m3
200
Contact grouting including joint grouting, ths m2
200
Consolidation grouting, ths m3
350
Concrete and reinforced concrete, ths m3
2386
Installation of structural metal elements and mechanisms, ths t
8
Remark: Construction was closed down in 1989; executed works amount to approximately 25% of the total project cost.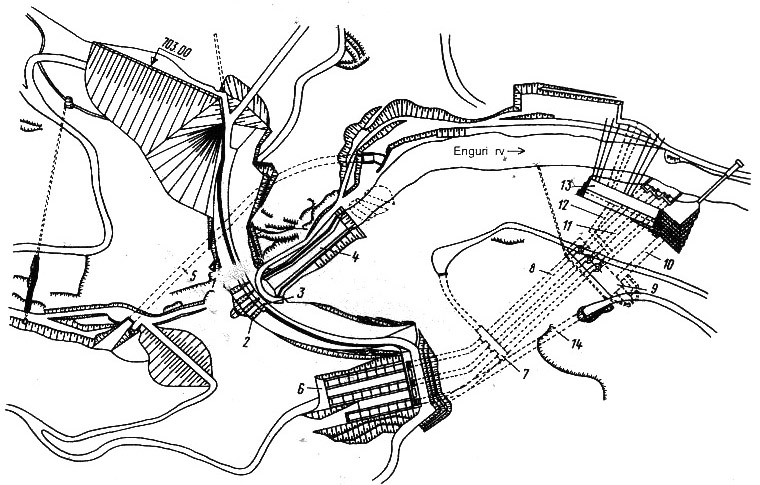 Diagram of the Khudoni Hydraulic Scheme Structures:
1. arch dam;
2. low level water outlets;
3. overflow spillway;
4. stilling basin;
5. river diversion tunnel;
6. water intake;
7. emergency repair gates chamber;
8. penstocks;
9. powerhouse;
10.powerhouse access tunnel;
11.tailrace tunnels;
12. busbar tunnel;
13. 500kV insulated switchgear;
14. motor road tunnel
UNDERGROUND POWER HOUSE OF KHUDONI HPP
PARAMETERS:
Width, m
24
Length, m
95
Height, m
60
Depth of occurrence, m
85
GEOLOGICAL CONDITIONS:
Tuff sandstones, porphyrites, lava braccia and tuff braccia
SCOPE OF WORKS:
Rock excavation, ths m3
270
Concrete and reinforced concrete lining, ths m3
21
Remark: The whole Powerhouse Complex – 3 line supply tunnel 293 m long and 6 m diameter, gate chamber dimensions 13x110x29m, 3 line inclined penstocks 160 m long and 5 m diameter, underground powerhouse and 3 line trailrace tunnel 90 m long and 8 m diameter are considered in the scope of work.

Section through the KHUDONI HPP Powerhouse Complex
1. water intake;
2. trash rack;
3. bulkhead gate;
4. emergency-repair gate chamber;
5. penstock;
6. powerhouse;
7. surge chamber;
8. tailrace pressure tunnel.
Khudoni HPP – Technical assistance component services of construction
№
Buildings
Designation of construction and mounting works
S e r v i c e s
Work execution period, years
Works organization projects
Works execution projects
Areas construction bases and temporary communications projects
Supervision for implementation of given projects
Consulting of technical and industrial issues
1
2
3
4
5
6
7
8
9
1
Three line pressure tunnels d=6m, l=293m
Working (mining) of the rock and lining
+
+
+
+
+
1984÷1989
2
Gates chamber – 13x110x29 m
Working (mining) of the rock and lining
+
+
+
+
+
3
Three line inclined penstocks d=5m, l=160m
Working (mining) of the rock and lining
+
+
+
+
+
4
Powerhouse 24x95x60m
Working (mining) of the rock and lining
+
+
+
+
+
5
Three line tailrace tunnels d=8m, l=90m
Working (mining) of the rock and lining
+
+
+
+
+
BACK to PROJECTS