| | |
| --- | --- |
| VARDNILI HPP - I | on the ERISTSKALI RIV. |
CUSTOMER:
Sakmtavarenergo
GEN. DESIGNER:
Hydroproject (Tbilisi)
GEN. CONTRACTOR:
Sakhydroenergomsheni
TECHNICAL ASSISTANCE / SERVICES
of GEN. CONTRACTOR:
Orgenergomsheni
PARAMETERS:
Capacity, MW
220
Power output, GWh
700
Reservoir storage, mln m3
7/145
Rated water discharge, m3/s
425
Discharge through waterways, m3/s
710
Rated head, m
559
TYPE OF REGULATION:
Seasonal
SCOPE OF WORKS:
Excavation, ths m3
2074
Filling, outlining, drainages and filters, ths m3
3342
Contact grouting including joint grouting, ths m2
12
Grouting of foundation, including consolidation grouting, ths m2
43
Concrete and reinforced concrete, ths m3
138
Installation of structural metal elements and mechanisms, ths t
43
YEAR OF START UP:
1971
DURATION OF THE CONSTRUCTION OF GENERAL UNITS, month
60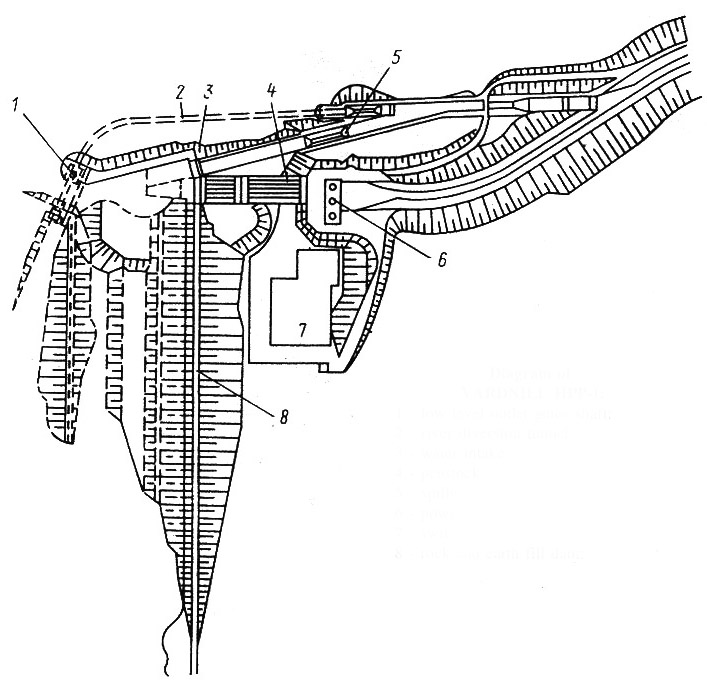 Diagram of VARDNILI HPP-I
1. low level outlet gates shaft;
2. river diversion tunnel;
3. water intake;
4. penstock;
5. spillway;
6. power house;
7. switch yard;
8. rock and earth fill dam.
ROCK AND EARTH FILL DAM of VARDNILI HPP-I
PARAMETERS:
Height, m
58
Thickness:
at the crest, m
10
at the contact with foundation, m
195
Arch crest length, m
890
GEOLOGICAL CONDITIONS:
Tertiary semi-rock deposits, dense clay, sandstone, conglomerates
SCOPE OF WORKS:
Excavation, ths m3
87
Earth and rock filling, ths m3
2191
Including:
Rock dumping, ths m3
1191
Conglomerate lining, ths m3
810
Drainage and filters, ths m3
190
Contact grouting and joint grouting, ths m2
12
Grouting of foundation, including consolidation grouting, ths m2
43
Concrete and reinforced concrete, ths m3
30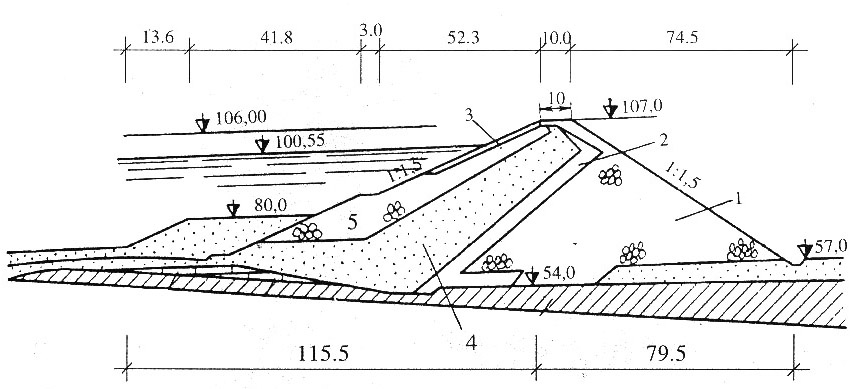 Dam of VARDNILI HPP-I
1. Rock fill;
2. Filter
3. Armoured concrete stone
4. Loam screen
5. Rock loading.
TRAILRACE CANAL FROM VARDNILI HPP-I TO BLACK SEA
PARAMETERS:
Lenght, m
23300
Including:
Lining sections, m
860
Width at bottom , m
45/60
Width at top, m
60/120/150
Depth, m
6/12
Hillsides
1:2/1:2.5
Water discharge, m3/s
710/756
GEOLOGICAL CONDITIONS:
First interval – conglomerates, sandstones and clays; thereafter – alluviums, proluviums and marsh formations
SCOPE OF WORKS:
Excavation, ths m3
9322
Filling, ths m3
663
Concrete and reinforced concrete lining, ths m3
12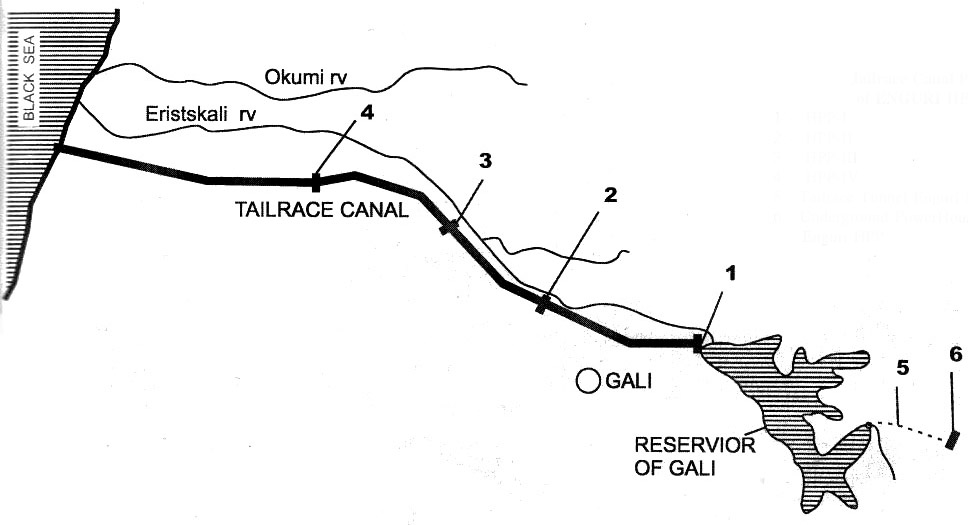 Trailrace Channel from VARDNILI HPP-I to BLACK SEA
1. VARDNILI HPP I
2. VARDNILI HPP II
3. VARDNILI HPP III
4. VARDNILI HPP IV
5. Tailrace Tunnel Enguri HPP
6. Underground Powerhouse of Enguri HPP;
VARDNILI HPP – II, III, IV On the Trailrace Channel from
VARDNILI HPP-I to BLACK SEA
CUSTOMER:
Sakmtavarenergo
GEN. DESIGNER:
Hydroproject (Tbilisi)
GEN. CONTRACTOR:
Sakhydroenergomsheni
TECHNICAL ASSISTANCE / SERVICES
of GEN. CONTRACTOR:
Orgenergomsheni
PARAMETERS:
Capacity, MW
3x40 120
Power output, GWh
3x127 400
Rated water discharge, m3/s
425
Rated head, m
11
TYPE OF REGULATION:
Seasonal
MAIN STRUCTURES:
The 3 Hydropower plants of a similar type are located on the trailrace channel 23300 m long. Each power plant comprises power house on the canal, abutments, piers and 110 kW switchyard.
SCOPE OF WORKS:
Excavation, ths m3
1668
Filling, outlining, drainages and filters, ths m3
729
Concrete and reinforced concrete, ths m3
248
Installation of structural metal elements and mechanisms, ths t
5
YEAR OF START UP:
1973-77
DURATION OF THE CONSTRUCTION OF MAIN BUILDINGS
66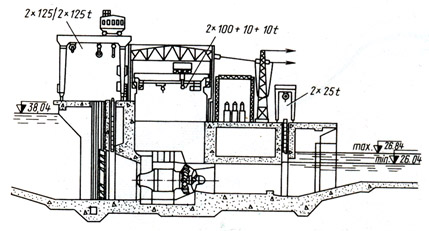 Section through the Centre Line of the VARDNILI HPP-II, III, IV Power Unitე
Vardnili HPP Cascade – Technical assistance component services of construction HPP-I, II, III, IV
№
Buildings
Designation of construction and mounting works
S e r v i c e s
Work execution period, years
Works organization projects
Works execution projects
Areas construction bases and temporary communications projects
Supervision for implementation of given projects
Consulting of technical and industrial issues
1
2
3
4
5
6
7
8
9
1
Rock and Earth-Fill Dam with the loamy screen of the HPP-I
Working out of the Dam foundation ditch
–
+
+
+
+
1972÷1982
2
Rock and Earth-Fill Dam with the loamy screen of the HPP-I
Filling of the rock and loamy screen, with the compression technology
–
+
+
+
+
3
Rock and Earth-Fill Dam with the loamy screen of the HPP-I
Arrangement of slope with the armored concrete stone and rock loading
–
+
+
+
+
4
Tailrace Channel from HPP-I to Black Sea
Working of the channel
+
+
+
+
+
5
Abutments and piers, of the HPP-II, III, IV disposed on the tailrace channel
Construction of the abutments and piers
+
+
+
+
+
BACK to PROJECTS